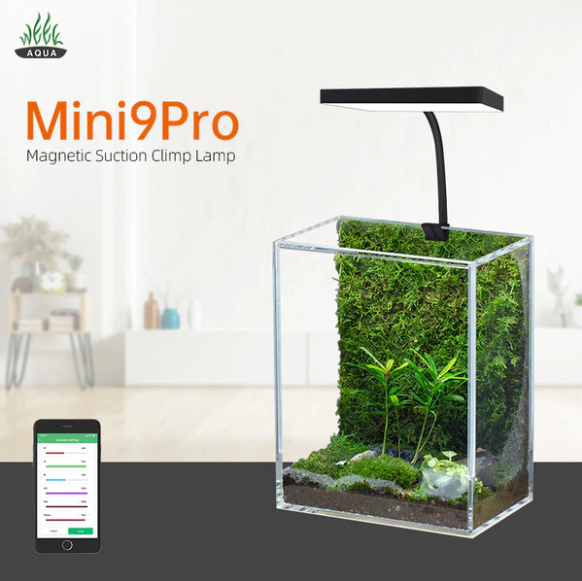 WEEK AQUA MINI 9 PRO RGB+UVA Aquarium Lightning
---
MINI9 PRO is suitable for aquariums up to 30cm.
The RGB + UVA light will make your aquarium bright, vibrant and beautiful.
Depending on your country's tax system, tax may be charged on receipt.
[View Product]
WEEK AQUA MINI 9 PRO
[FEATURES]
Smartphone app control
Dimming function
Timer function
[Performance]
Voltage: USB 5V power supply
9W output
Light Output: 585lm
LED RGB : 12pcs
LED UVA : 6pcs
Body size W188mm D88mm H15mm
Weight: 200g

[Overview]
Light stand is removable.
The small dimmable lights are suitable for terrariums. The light can also grow positive aquatic plants in bottle or 20 cm cube tanks.
This lamp is specially designed for small aquariums.
A magnetic plate is included.
This can be attached to a shelf.
Or it can be attached to the MINI9 stand.
For use in bottles or other curved aquariums, please use a stand.
[UVA]
Black light activates plants.
Brings out the colours of fish and plants.
Does not kill bacteria or reduce moss.
It also does not cause sunburn.
It is safe for the eyes to look directly into.
Ideal for use in living room aquariums.