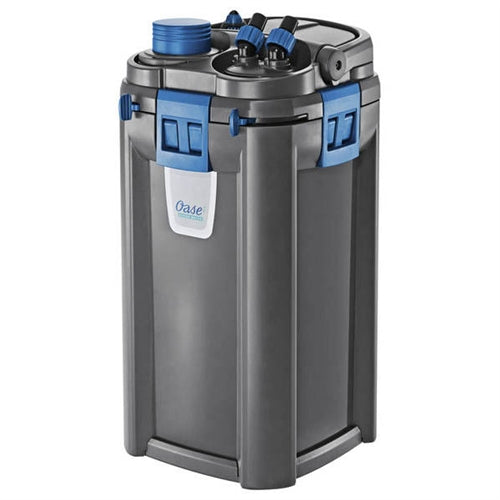 OASE BioMaster Thermo 600 Canister Filter w/ Heater - Free Shipping
---
OASE BioMaster Thermo 600 Canister Filter w/ Heater is perfect for marine and freshwater aquariums. This Filter is very unique as it has an Oase HeatUp 300 Watt Aquarium Heater 
inside!
The BioMaster 600 boasts 4-stage filtration in a compact design. The biological, mechanical, chemical, and prefiltration all work together to provide your aquarium with optimal water quality and clarity. The BioMaster filters are designed with sealed filtration pathways to ensure water flow is getting the full benefits of the prefiltration filter media. 
The Hel-X Biomedia provides a large suspended settlement surface for beneficial bacteria growth.
 The EasyClean prefilter module can be removed and cleaned separately from the rest of the filter for high efficiency and to extend the life of your filter. Created for convenient placement under the aquarium. Customize your prefilter by combining coarse, fine, ultra-fine, and activated carbon filter foams.
Features:
Dimensions: 9.4" x 9.4" x 19.0" Tall


Oase HeatUp 300 Watt Aquarium Heater included. It's in a slot inside the filter. The heater control pokes out the top of the filter.

For external installation

Suitable for aquariums up to 160 gallons

Includes 4-stage filtration: biological, mechanical, chemical, and prefiltration. 

The Hel-X Biomedia provides a large suspended settlement surface for beneficial bacteria growth.

The EasyClean prefilter module can be removed separately from the rest of the filter for simple cleaning and to extend the life of your filter

Max. Flow Rate: 350 GPH

All necessary fittings are included

Adjustable flow control is built into the inlet and outlet of the filter

Diffuser and spray bar can be utilized for uniform surface movement and additional dissolved oxygen integration

Includes a self-priming function for simple startup and continued operation

Features a carrying handle for simple moving and maintenance

For freshwater and saltwater aquariums

Tubing length: 13 ft.

6 ft power cord

3-year warranty

Made in Italy, backed by German engineering